Friday 26th May 2023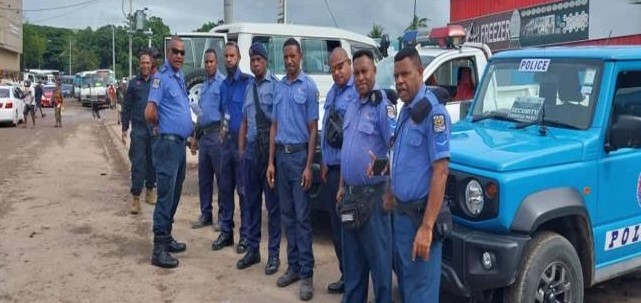 NCD Central Commander Assistant Commissioner Anthony Wagambie Junior has praised members of the three disciplinary forces, and the people of NCD for maintaining peace and good order throughout the Forum for India-Pacific Islands Cooperation (FIPIC), staged in Port Moresby from 21 – 22 May 2023.
Mr Wagambie, who was the commander in charge of the special security operations for FIPIC, said ,"Despite a few hiccups, particularly in relation to the rumblings at the University of PNG, the students behaved well by remaining on campus, while security at APEC house, the hotels and all other venues were intact
"Areas were effectively cordoned off, allowing the leaders, their entourage and security personnel to move around more freely and conveniently.".
ACP Wagambie said, "I am deeply elated because our people in all sectors of the community were generally receptive, and well behaved throughout this very important international summit. The outcome is a reflection of our people's pride and joy."
Mr Wagambie said the world's attention was focused on PNG and the people demonstrated our culture and our ability to host another major global event.
"I am elated because our government, our people and our security forces stood together and welcomed the leaders and their entourage into the country," ACP Wagambie Jnr said whilst thanking members of the PNG Defence Force and Correctional Services for working alongside members of the Constabulary in ensuring peace and security throughout the duration of the FIPIC Summit.
The FIPIC Summit was co-hosted by the Prime Minister of the Republic of India, Hon. Shri Narendra Modi and Papua New Guinea's Prime Minister, Hon. James Marape.
FIPIC member countries include Cook Islands, Fiji, Kiribati, Marshall Islands, Micronesia, Nauru, Niue, Palau, Papua New Guinea, Samoa, Solomon Islands, Tonga, Tuvalu, and Vanuatu.