Thursday 2 November 2023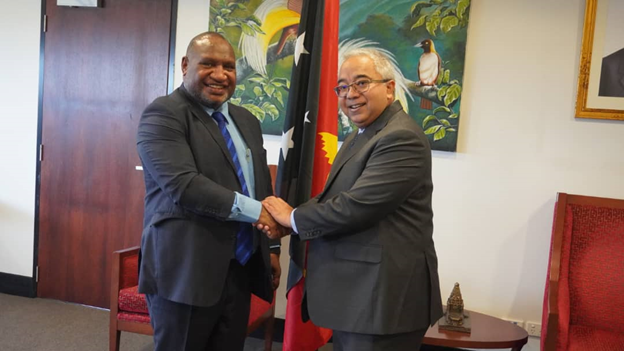 Prime Minister James Marape meeting with ADB's Country Director, Mr Said Zaidansyah. (photo credit: PM's Media).
Prime Minister Hon. James Marape expressed his heartfelt gratitude to the Asian Development Bank (ADB) for its unwavering support to Papua New Guinea during a meeting today with the newly appointed ADB Country Director, Mr. Said Zaidansyah.
"Welcome to Papua New Guinea, and I hope that during your time here, you will contribute to a better Papua New Guinea," Prime Minister Marape said when welcoming Mr. Zaidansyah.
ADB has been a steadfast partner in Papua New Guinea, contributing significantly to funding major infrastructure projects, for which the nation is deeply thankful.
Prime Minister Marape also expressed hope that ADB's assistance will align with Papua New Guinea's recently launched Medium Term Development Plan (MTDP) IV.
The Asian Development Bank's assistance has included the Civil Aviation Development Investment Programme (CADIP), which has led to substantial upgrades at numerous airports throughout the country.
ADB is also actively engaged in various road projects, including the construction of 71 bridges, contributing to the development of a robust infrastructure network.
Mr. Zaidansyah, an Indonesian national, now leads ADB's operations in Papua New Guinea, overseeing ADB's relationships with the government, stakeholders, including the private sector and non-government organisations.
Prior to his current role, he served as ADB's Deputy Country Director for Indonesia, starting in November 2018. His previous experience in ADB's Office of the General Counsel led to his appointment as Principal Counsel.
Before joining ADB, Mr. Zaidansyah was a lawyer with Baker & McKenzie. He holds an LLM from Queen Mary College of the University of London, achieved under the British Chevening scholarship, and an LLB from the University of Indonesia.
Mr. Zaidansyah highlighted ADB's enduring partnership with Papua New Guinea, dating back to 1971, with a particular focus on the road and infrastructure sector.
He emphasised ADB's commitment to continue this collaboration within the framework of MTDP IV, offering support to help Papua New Guinea achieve its developmental goals.
Mr. Zaidansyah underscored ADB's ambition to diversify and engage in multiple sectors, exemplified by investments in Technical Vocational Education Training (TVET), healthcare facilities, the public sector, State-Owned Enterprises, and anti-corruption initiatives, among others.
He informed Prime Minister Marape of ADB's interest in supporting affordable housing and expressed his intent to meet with Deputy Prime Minister Hon. John Rosso to discuss this further.
Prime Minister Marape requested a comprehensive briefing from Mr. Zaidansyah on all ADB projects in Papua New Guinea to facilitate further discussions.