Friday 5 May, 2023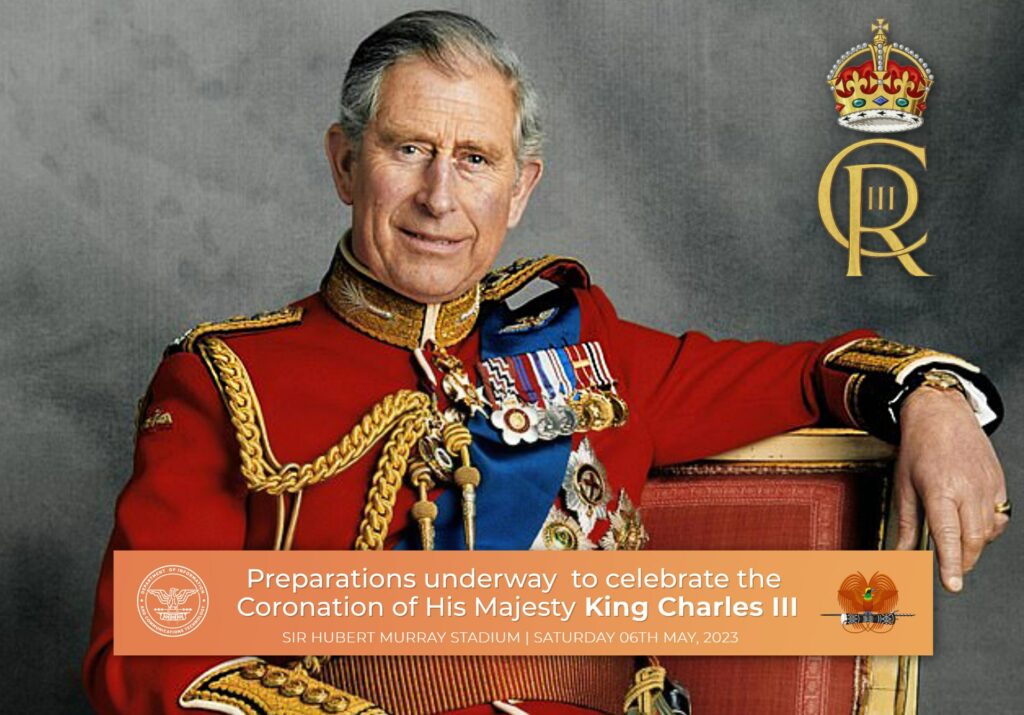 His Majesty King Charles III .
Preparations are well underway to celebrate the Coronation of His Majesty King Charles III, who reigns over the United Kingdom and 13 other Commonwealth realms, including Papua New Guinea.
The celebration will be held at the Sir Hubert Murray Stadium tomorrow , May 6, 2023 and promises to be a grand celebration, which will be highlighted with a military parade by the PNG Defence Force, Royal PNG Constabulary, Correctional Service, the Fire Services and St. John's Ambulance.
The Governor General of Papua New Guinea Grand Chief Sir Bob Dadae, who is currently in London to witness the Coronation of King Charles III, has released a congratulatory message to His Majesty, highlighting the significance of the event and the important role that the monarchy plays in maintaining unity and stability within the nation. Sir Dadae also urges all citizens to show their support and respect for the new king.
Similarly, Prime Minister Hon. James Marape has issued a statement reaffirming the government's commitment to the prosperity and well-being of the country under the reign of His Majesty King Charles III.
He stresses the importance of the monarchy as a unifying force and calls on all citizens to demonstrate their support and loyalty to the new King.
The coronation ceremony will be broadcast live on the NBV TV, EMTV and TVWan and radio stations from 5 pm to 10 pm, featuring various speeches and live musical performances, including a keynote address from His Excellency Hon. Job Pomat CMG, MP, the Acting Governor General of PNG, and Prime Minister Hon. James Marape.
In preparation for the event, the media and communication team, comprising the PNG Department of Information and Communications Technology (DICT), Prime Minister and NEC, and Foreign Affairs, have been working diligently to ensure that all personnel, including VIPs, media, and technical crew, are properly accredited, ensuring the safety and security of the event and compliance with necessary protocols and guidelines.
The coronation of His Majesty King Charles III marks a historic moment for Papua New Guinea, and the efforts of the media team including other organizations involved in the planning and execution of the event are critical to its success.
The people of Papua New Guinea eagerly anticipate a joyous and memorable celebration of their new King.
The Celebration will conclude with a fireworks finale.
Top of Form