Wednesday 03rd May 2023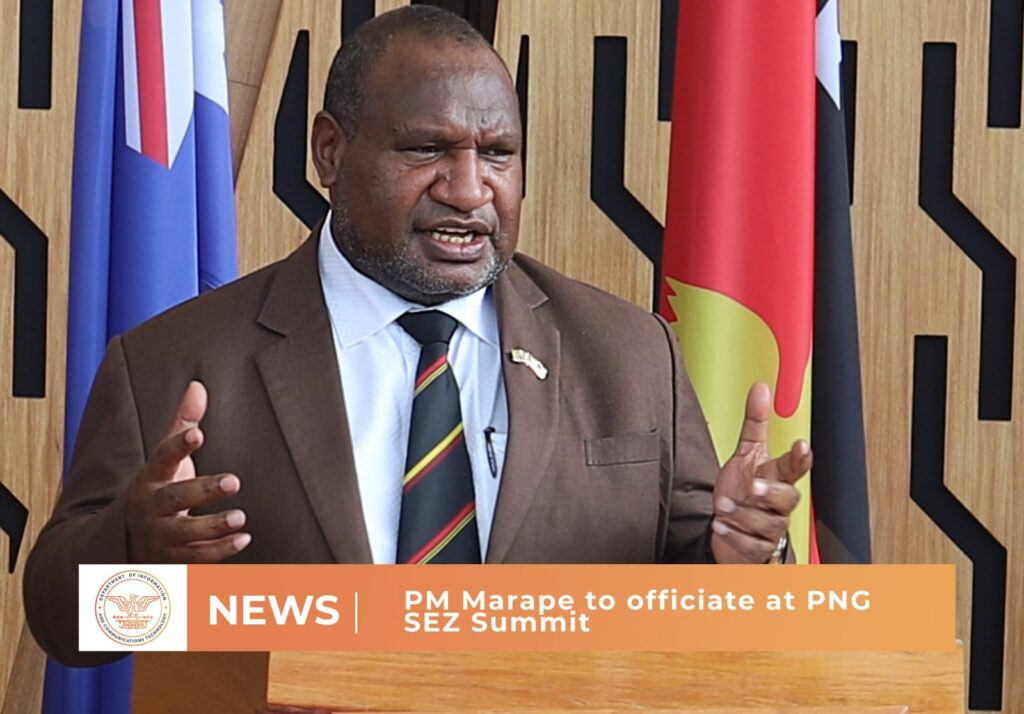 Prime Minister Hon. James Marape will officiate at the three-day Papua New Guinea Special Economic Zone (SEZ) Summit to be held in Port Moresby from May 7-9 , 2023.
PM Marape said SEZ establishment in PNG was a work in progress.
"My government has been pushing hard for the establishment of SEZs in PNG since 2019, and I commend hardworking International Trade and Investment Minister Hon. Richard Maru, for playing a leading role.
"Work was somewhat slowed down due to the onset of COVID-19 in 2020, 2021 and 2022, but Minister Maru took the bull by the horn after I appointed him as Minister responsible for SEZs."
"Last September, while in Tokyo, Japan, Minister Maru and I held discussions with international SEZ leader, Japan Development Institute (JDI), and I am pleased to say that JDI was immediately engaged by Government to check out potential of SEZ sites around the country and I look forward to JDI's report at the summit," he said.
Mr Marape was also impressed with the way SEZs can transform the economy of a country, when he visited Gabon, Central Africa in March this year.
"The Gabon SEZ has created 16,000 direct and indirect jobs; exported US$265 million worth of products exported annually; processed 820,000 cubic metres (m3) of timber in 2020; and generated US$1.7 billion in direct foreign investments.
"This is the path I have been envisaging since I took officee, switch to downstream processing of our natural resources and in my various meetings with world leaders, I have been inviting them to invest in this space."
PM Marape was also in remote Kurindal in Lasul-Baining Local Level Government (LLG), Gazelle, East New Britain where he recently launched a brand-new KKC Veneer Mill.
"This is the second veneer plant in the country after Angoram in East Sepik, which are types of businesses we want in SEZs and the mill is very much in line with my government's push for downstream processing of logs and other resources," he added.
Such plant would provide employment and training to hundreds of young people, as well as building the local economy, in this rural area of East New Britain.
"I want to see many more such projects spring up at SEZs all over the country because we have potential for downstream processing in not just forestry but agriculture, fisheries, mining, oil and gas and all other associated businesses like hotels, pharmaceuticals, textiles and other manufacturing."
He further stated that SEZ expansion is job creation and economic growth – which is a major focus of the government.
"We have allocated over K300 million in the 2023 Budget for land, agriculture, fisheries, equity, and SME development to support this policy intention of Government," he further stated.
The event is organised by the Department of International Trade and Investment and will bring together SEZ experts from around the world, Government departments and agencies, private sector and the provinces to discuss the establishment of SEZs in PNG.
PM Marape, who has been spearheading establishment of SEZs since passage of the SEZ Authority Bill in 2019, will open the summit on the evening of Sunday, May 7.
"I look forward to presentations by SEZ experts from around the world, successful SEZ countries, as well as potential SEZs in PNG," Mr Marape said