Saturday, 6 May 2023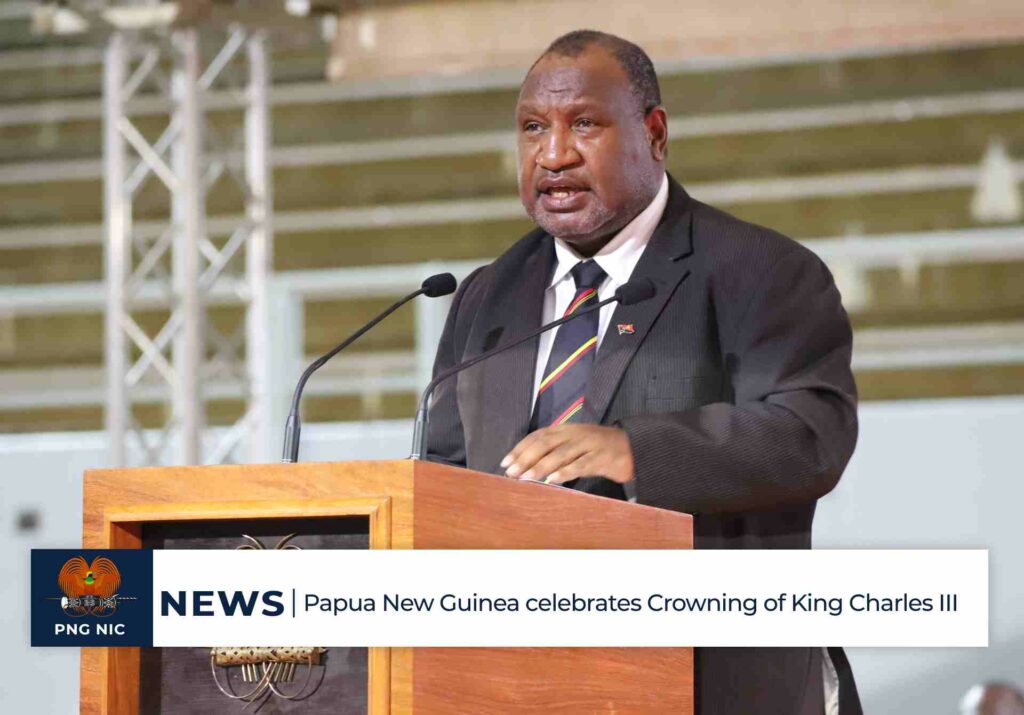 Prime Minister Hon. James Marape, addressing Papua New Guinea during the Celebration of the Coronation of King Charles III at the Sir Hubert Murray Stadium this evening (6 May 2023).
Papua New Guinea joins the Commonwealth of Nations to witness the Crowning of King Charles III during the Coronation ceremony at Westminster Abbey, in London today.
In his address to the nation at the Sir Hubert Murray Stadium this evening, Prime Minister, Hon. James Marape welcomed every Papua New Guinean in celebrating the Coronation of the country's ing and Head of State, His Majesty King Charles III.
"Today, as we join to mark the Coronation of our Head of State, King Charles III, may I remind us of the importance of 'Tradition' in the face of so much change.
"The British Monarchy is a time-tested institution spanning more than 1,200 years, comprising 62 kings and queens. This institution has come to symbolise stability, grace and service – values we need more of amongst so much change and instability in our world today."
"We join with all Commonwealth Realm nations as each country holds its own event – however big or small – to mark the Coronation of the King, as it is being held in London, England."
Papua New Guinea's association with His Majesty, the King; his mother Elizabeth, Papua New Guinea's late Queen; and the Crown goes way back to 1884 when the southern part of Papua New Guinea was a British colony under the reign of Queen Victoria – the great-great-great grandmother of King Charles.
"This long association with the Crown of England and Great Britain has led to our eventual inclusion in the Commonwealth of Nations," he said.
Papua New Guinea witnessed the end of an era in 2022, in the death of Queen Elizabeth II – the longest-serving British monarch to date
Her Majesty had served for 70 years and 214 days, dedicating her life to service, duty, and the exemplification of her Christian faith.
"Following the death of Queen Elizabeth, Prince Charles acceded to the throne on 8 September 2022 as King Charles III, the same day his mother passed.
"This week, we witness the beginning of a new era in his Coronation."
Prime Minister Marape noted His Majesty's presence in Papua New Guinea since he was a boy, as he had made four visits to the country to date.
As a Prince then, he visited Papua New Guinea 1966, at the age of 18 and while a student in Australia.
"Prince Charles visited our country and slept in a typical thatched-roof house in Popondetta as part of a student exchange program," says Prime Minister.
"In 1975 at the age of 27, Prince Charles represented his mother Queen Elizabeth to officiate at the Independence of Papua New Guinea – joining in the celebrations, witnessing the lowering of the Australian Flag and the hoisting of the new Papua New Guinean one for the first time.
"In 1984 (aged 36), the Prince once more joined the people of Papua New Guinea to open our new Parliament House at Waigani, which, today, stands as a proud testament to the vibrancy of the democratic system of government we have inherited from Britain."
In his recent visit in 2012, Prince Charles was 64 when he represented the Queen to visit PNG as part of her Diamond Jubilee celebrations.
"This is reminding us that, even though Her Majesty was far away in England, Papua New Guinea was still very much a part of her duty as the Head of State and the Commonwealth.
"As can be seen, King Charles has been a part of our journey as a sovereign nation since 1975, and we have come to love and cherish him, just as we have loved and cherished his mother, our late Queen, over her long reign," he added.
"There is no doubt the new monarch has a soft spot for us as a people. His Majesty still holds dear his times spent in our country, as I noted when he accorded me the honour of meeting him in London last year 2022, during the burial of his mother, our late Queen.".
Both Prime Minister Marape and His Majesty talked about his visits to PNG, the acquaintances he made at those times, and "graciously accepted" Prime Minister Marape's invitation to officiate at PNG's Independence Golden Jubilee celebrations in 2025
Mr Marape added, the relationship King Charles has with PNG is now at its height as, today, he steps into his full regal title and role as the Head of State of our country, Papua New Guinea.
Meantime, Prime Minister refuted claims by many modern-day critics who say PNG should consider breaking away from this old practice of associating with Britain's Royalty.
"Papua New Guineans are a people very accustomed to tradition, ceremony, and hierarchal systems.
"Britain's monarchy reminds us of our own traditional Chieftaincy systems which brought order, balance and stability to our communities and societies.
"Our continued association with the Crown is also linked to our shared history and Britain's hand in our development as a country.
"This history is now part of our acquired heritage, just as our thousand-plus traditional customs and norms are parts of our heritage and identity."
Prime Minister further said Papua New Guinea is 'very fortunate' to belong to a block of nations as large as the Commonwealth
"As the world becomes a global village and countries turn to the other for support and growth; as global issues become more complex and strong advocacy becomes paramount in addressing them; as developing economies like ours look around for older ones to help boost commerce and trade,
"Together we can advocate on pressing issues like Conservation and Climate Change; together we can use this platform to increase trade and commerce amongst ourselves; and together, we can support each other to make our parts of the world a better place to live in."
He added, "These are the benefits of being a part of the Commonwealth – a remarkable organisation that has existed for over 70 years, comprising 54 independent nations, and held down by the strong foundation laid out in the British monarchy..".
"On behalf of the People of Papua New Guinea, let me take this time to offer our hearty congratulations and well wishes to His Majesty, King Charles III on his coronation.
" He has been groomed his whole life for this moment, and although his reign might not be as long as his mother's, we know he has been prepared well for this work.
"As a country of Christians, we pray that God will bless him with a heart of service and duty to honour his calling, and to also speak up with conviction on matters of conscience close to his heart."
"May God Save the King!"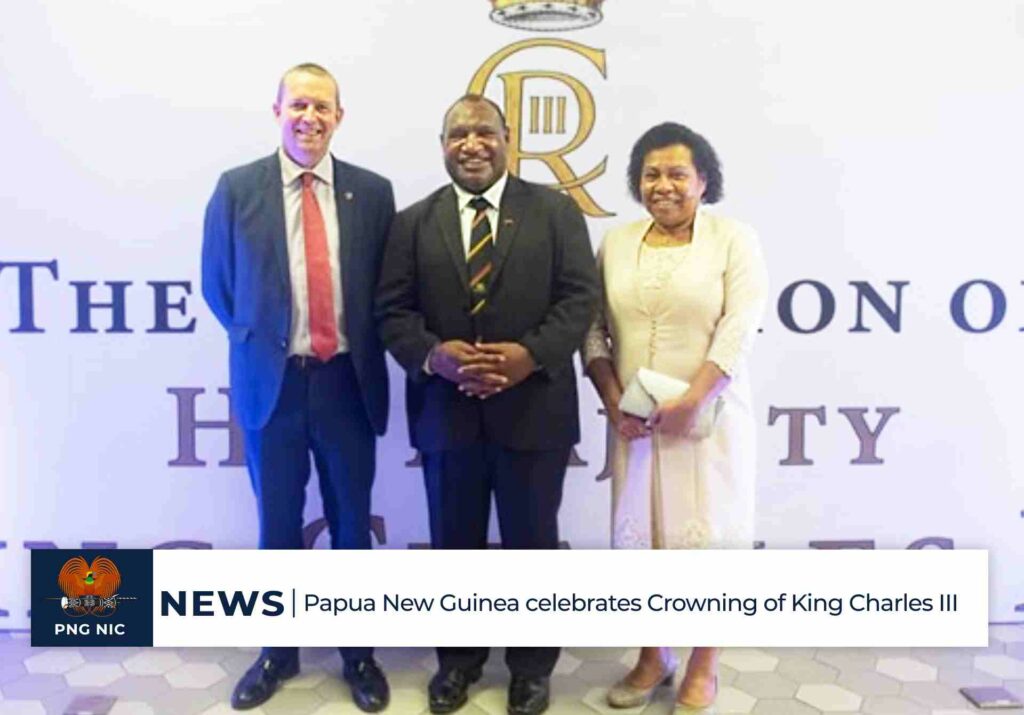 British High Commissioner to Papua New Guinea, HE Keith Scott, with Prime Minister James Marape and Madam Rachel Marape at the Sir Hubert Murray Stadium.