Monday 9th October 2023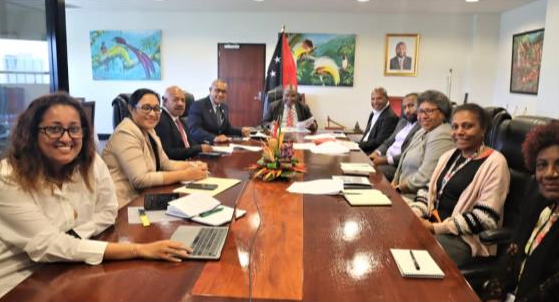 Papua New Guinea is preparing to host the World Indigenous Business Forum (WIBF) in two weeks as the National Capital District Commission yesterday briefed Prime Minister Hon. James Marape on the progress of preparations.
National Capital District Governor Hon. Powes Parkop, who is heading the event planning and preparations, met with the Prime Minister to give an update, and says he is confident the National Capital District Commission (NCDC) will execute a spectacular event that would leave a lasting impression on the visitors.
Prime Minister Marape wants to use the WIBF platform to connect and expand business linkages with Indigenous peoples in countries, besides the traditional channels of bi-lateral and multi-lateral relations through diplomacy.
The forum will be held from 24 – 26 October and participants are being expected from throughout the world.
Today, the Prime Minister said WIBF provides the perfect opportunity to present Papua New Guinea's arts and cultures as the world's indigenous people assemble in the Nation's Capital.
"Who better to host the Indigenous forum than Papua New Guinea? As you can see, we have the most indigenous cultures and arts than any other country in the world. We want to also use the opportunity to promote tourism in PNG," remarked PM Marape.
NCDC is planning for a spectacular opening ceremony down at Sir Hubert Murray Stadium, Konedobu on the 24th October 2023 that will include traditional singsings led by local Motu-Koitabuans, and the exhibition of the arts and cultures of Papua New Guinea. A closing ceremony is also being planned for the 26th October at APEC House and Ela Beach with similar exhibitions.
The WIBF website says "the WIBF draws attention to Indigenous economic development and has been held in these countries in these years – 2011 New York City, USA; 2012 Sydney, Australia; 2013 Windhoek, Namibia; 2014 Guatemala; 2015 Oahu, Hawaii; 2016 Saskatoon, Saskatchewan; 2017 Santiago, Chile; 2018 Rotorua, New Zealand; 2019 Vancouver, Canada; 2020 Virtual Forum; 2021 Virtual Forum; 2022 Villavicencio, Meta, Colombia."
The briefing was also attended by Treasurer Hon. Ian Ling-Stuckey, and Minister for Finance & Planning, Hon. Rainbo Paita.