Wednesday 31 August 2022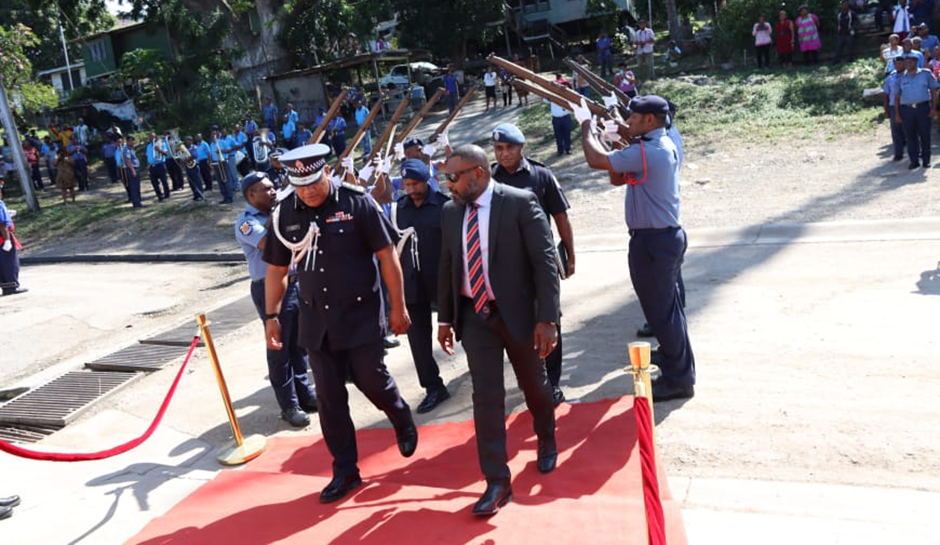 Police Commissioner David Manning says the National Government's decision to establish the Internal Security Ministry is a step in the right direction as the nation faces immense security and economic challenges.
Commissioner Manning made this remark when welcoming newly appointed Internal Security Minister Hon Peter Tsiamalili Jnr at the National Police Headquarters in Konedobu, in the National Capital District with a traditional constabulary welcome on Monday 29 August 2022.
"Since taking office the Constabulary has been undergoing major policy and process reforms thus the Government decision to establish the Internal Security Portfolio is a step in the right direction.
"Realistically speaking most agencies correspond to or give rise to each other in terms of their functions and such portfolios will enable the agencies to address issues of national importance in a more efficient and coordinated manner."
Minister Tsiamalili was given a Guard of Honour followed by a briefing session with the police top hierarchy where the minister was informed of the Constabulary's manpower strength, achievements, challenges and the wayward in line with its corporate plan 2021-2030.
Deputy Commissioner Operations Anton Billie, Deputy Commissioner Administration Joanne Clarkson, Acting Deputy Commissioner Specialist Operation Donald Yamasombi, Assistant Police Commissioners and the Deputy Chief of Bougainville Police Service Assistant Commissioner Naua Vanuawaru gave the minister brief overviews of their respective commands.
Minister Tsiamalili Junior thanked the Constabulary for the compressive presentation and vowed to provide the necessary support at the political level to achieve the desired outcomes for the Constabulary so that it can better serve the government and people of PNG.
"The only thing that I want us to work on immediately is to build a good team with the right attitudes.
"Despite the lack of resources and economic challenges, with a good team spirit coupled with right attitudes we will achieve a lot," Minister Tsiamalili Jnr concluded.