Tuesday 03rd October 2023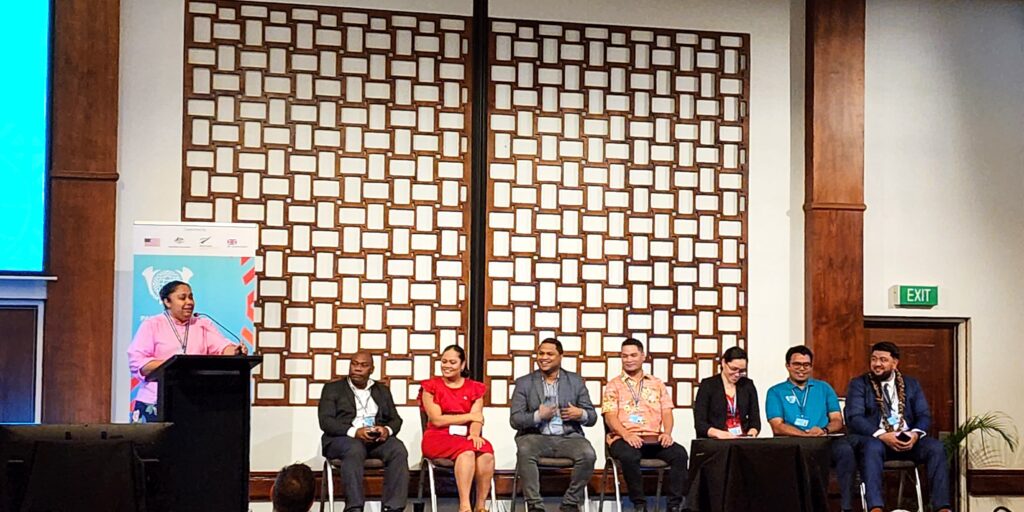 The Secretary of the Department of Information and Communications Technology Mr. Steven Matainaho, has stressed to Pacific Island countries during the Inaugural Cyber Capacity Building and Coordination Conference (P4C) in Nadi, Fiji, that having a strong leadership can help in managing limited resources that small island countries in the Pacific possess to improve digitalization projects as well as improving cyber security capabilities in the region.
Speaking during the conference launching, Secretary Matainaho said most Pacific Island countries have similar issues when it comes to resources and capacity building to improve digitalization services and cyber security to protect the people and the region as a whole.
"You got to have the lead skill set in change management and dealing with people, you must also make logical decisions," he said.
He said ICT sector itself is very unique.
"There are loads of challenges involved in ICT sector, specifically in Cyber space and we have to ensure, management of related projects with resources are priorities.
"When Papua New Guinea Department of Information and Communications Technology first formalized the Digital Government Act, and before submissions were made to the Cabinet, three main components have been addressed; infrastructure, data and security," Secretary Matainaho added.
"For us small Pacific Island countries, we always get support from sources that we feel the need to when seeking assistance, and for us, Papua New Guinea, I must actually give credit to the Global Forum & Cyber Expertise (GFCE) for their enormous support when we first drafted the Cyber Security in 2020 and their commitment in supporting us.
"Policy plays an important role for us Pacific Island countries and when drafting policies, we must consider key components in policy formulation.
"Authorities, sponsors, champions in other agencies that are collaborating in policy formulation as well as whole of government approach are some of the key components that should be considered."
He said when merging those components, it will inform legislation appropriately.
"That is not applicable to Cyber Security alone, but it can also be applied to Digital Government, Data Governance and others as well," he added.
Secretary Matainaho added that with availability of resources, an issue with most island countries, compressing a lot of work into streamlining can help.
"The best approach for us, the smaller island countries in the region who have limited resources, we need to adapt the streamline efforts and it also meant that, we must work together as Pacific Island nations to get everything done correctly," Secretary Matainaho concluded.
Meanwhile Deputy Prime Minsiter for Fiji and Minister for Trade, Cooperatives, Small and Medium Enterprises and Communications Honorable Manoa Seru Nakausabaria Kamikamica, applauded the Government of Papua New Guinea through the Department of ICT on the recent hosting of the Pacific Island Leaders ICT Dialogue that was held in Port Moresby in August 2023.
In his keynote address, Hon Kamikamica said collaboration among small island nation in the pacific in such event as the Inaugural Pacific Island Leaders ICT Dialogue implies pathway for coordination among each other to address issues arising in the region.
"Just a month ago I was honored to meet fellow ICT Ministers in the Pacific where we signed the Lagatoi declaration in Papua New Guinea which implies that need to be united and share aspirations for the well connected, prosperous and secured region.
"The declarations outline six priorities to be undertaken by Island States and the action plan is being developed which will be reviewed in 2025
"I hope this conference will discuss in detail how the 6 priorities can be progressively implemented across the pacific region," Mr Kamikamica said.
He added that Pacific Island countries must be cyber resilient as cyber is a threat to the Pacific as the evolution of technology became advanced.
"Cybercrime awareness existing in the pacific is good with regard to cyber threat and it is probably one of the greatest threats in the region and forums such as P4C is good for countries in the region to collaborate and fight the issue of cyber threat in the region," he said.
"This conference has the opportunity to properly map the needs with the required support and I urged island countries in the region to take part in regional and global forums for Cyber and ICT.
"We must attend forums to enhance our understanding of the unique context of the various Pacific Island countries so that capacity building methods are clear as we are all at different stages of our ICT and Cyber journey.
"I am off the firm view that this inaugural pacific cyber conference preaches to be developing tangible discussions and sustainable uplifting of cyber security capabilities and readiness across the pacific by fostering collaboration, cooperation and to share cyber security threat information tools, safety and best practices."
The conference is the first of its kind and is a collaboration between the Partners in the Blue Pacific (PBP) the Oceania Cyber Security Centre (OCSC) and the Global Forum on Cyber Expertise (GFCE) Pacific Hub.