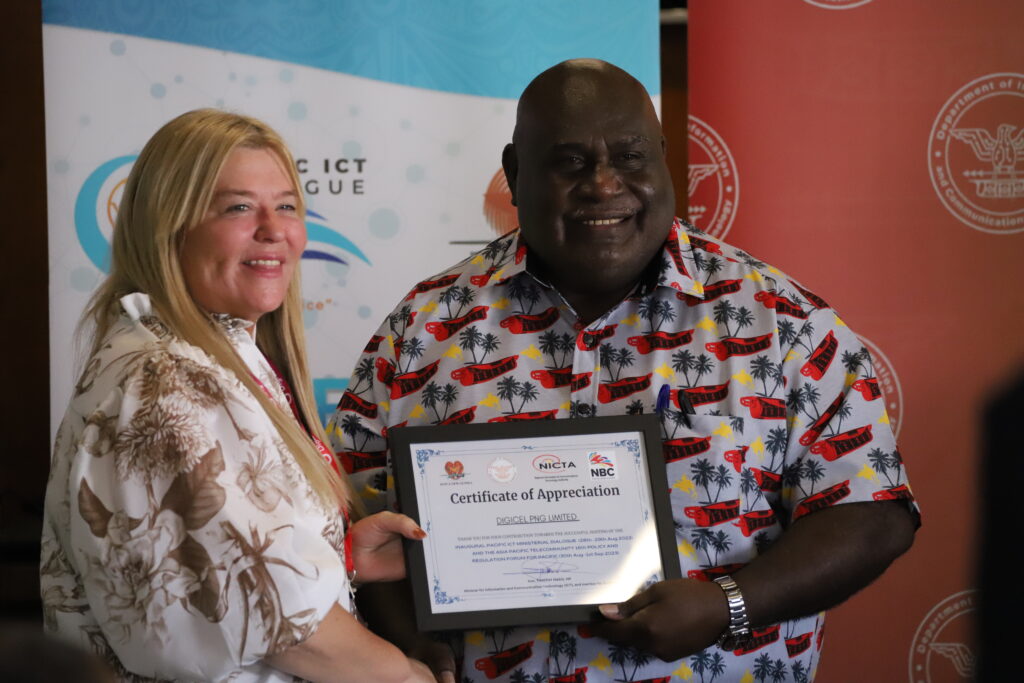 ICT Minister Hon. Timothy Masiu presenting a certificate of appreciation to Ms Lorna McPherson for the participation and support of Digicel PNG during the appreciation event at NICTA.
The National Information and Communications Technology Authority (NICTA), with the support of the Department of Information and Communications Technology (DICT) and the National Broadcasting Corporation (NBC), hosted an appreciation ceremony to honor the organizations that played a pivotal role in the success of two recent major regional meetings.
The Inaugural Pacific ICT Ministerial Dialogue and the 16th Asia-Pacific Telecommunity Policy Regulation Forum for the Pacific, held from August 28 to September 3, 2023, were celebrated as significant milestones in advancing the ICT sector in Papua New Guinea (PNG) and the Pacific region.
The event, held at NICTA's headquarters, saw the participation of key stakeholders from both the public and private sectors. During the ceremony, several speeches were delivered, expressing gratitude and emphasizing the importance of continued collaboration in the ICT sector.
Mr. Kila Gulo-Vui, CEO of NICTA, opened the proceedings by expressing his appreciation to all participating organizations, both government and private, for their unwavering support in expanding connectivity within the region.
"The organizations which supported the two key events are regarded as key partners in advancing the ICT sector rather than entities subject to regulations," stated Mr Gulo-Vui.
Representing the telco industry of PNG, Mr Michael Henao from Digicel PNG conveyed their gratitude for the opportunity to participate in the regional meetings.
He stressed the collective commitment to building a robust ICT space and commended the leadership of Minister Hon. Timothy Masiu in driving the sector forward. Henao underscored the importance of dialogue and highlighted the timeliness of hosting such an event in PNG, given the ongoing digitalization trend.
The Minister for ICT Hon. Timothy Masiu expressed his gratitude to all attendees and organizers, praising the successful and well-organized events.
"Everyone's dedication was driven by a shared goal of advancing ICT for the betterment of the country," said the ICT Minister.
He assured that the government would continue its efforts to bridge the digital divide, improve connectivity, and enhance affordability. He also noted that PNG's reputation in the global ICT landscape was growing, attracting international attention.
Minister Masiu added that the Kavieng trip at the conclusion of the Pacific ICT Ministerial Dialogue was an highlight for the delegation.
"One of the highlights of the Pacific ICT Ministerial Dialogue was a connectivity exercise in Kavieng" Masiu stated, emphasizing the importance of expanding digital access in remote regions.
Minister Masiu further disclosed the opening of a new community ICT center in Gabagaba village, Central Province. This initiative is expected to connect remote areas, facilitate effective business and trade, and inspire progress in rural communities.
The appreciation ceremony served as a reminder of the ongoing commitment to advancing ICT in the Pacific region and fostering meaningful partnerships between the public and private sectors, ultimately benefiting the people of Papua New Guinea and the wider Pacific community.