Friday 19th May 2023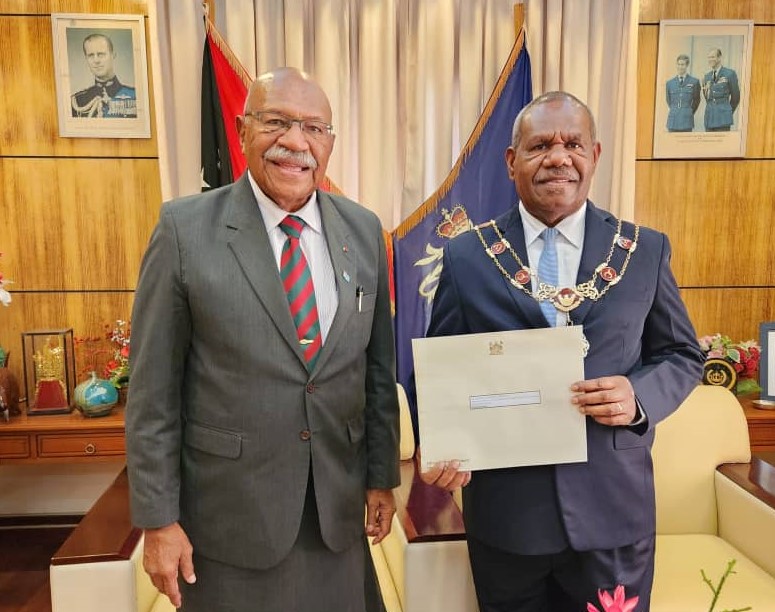 Governor -General Grand Chief Sir Bob Dadae, received the Prime Minister of the Republic of Fiji, Honourable Sitiveni Rabuka at Government House yesterday afternoon.
Prime Minister Rabuka arrived in the country yesterday afternoon and paid a Courtesy Call on the Governor General.
By way of introduction, the Prime Minister and his delegation performed a traditional Fijian reconciliation ceremony complete with the presentation of a whale tooth, a significant Fijian traditional gift, to the Governor- General.
The traditional ceremony that Prime Minister Rabuka performed sought forgiveness and reconciliation on behalf of the people of Fiji for the closure of the Fijian High Commission in Papua New Guinea in 2020.
Grand Chief Sir Bob informed the Fijian Prime Minister that he welcomed the gesture on behalf of the Government and people of Papua New Guinea, and further welcomed the Fijian Government's intention to re-open the Fijian High Commission in PNG.
"Papua New Guinea is happy to welcome you back and we look forward to seeing you reestablish your office here. Since the establishment of our diplomatic relations in 1975, we have maintained a strong relationship based on our close traditional ties and in as far as working together and providing leadership to our neighbouring Pacific island family," Grand Chief Sir Bob said.
In response, Prime Minister Rabuka said, PNG is now playing a major role in the Pacific in aligning itself with leading nations of the world and urged that PNG pursue the interests of the Pacific in these alliances.
"It is important now more than ever that the Papua New Guinea and Fiji relationship is consolidated so that we can provide that leadership in the Pacific. Papua New Guinea is now playing a big role in aligning itself with those (nations) that are interested in PNG's strategic location and influence in the region.
"May these interests be in the pursuit of peace and serenity and addressing issues affecting our environment and region," Prime Minister Rabuka said.
Prime Minister Rabuka also presented an official invitation from the President of Fiji to the Governor General to visit Fiji. The Governor General has accepted the invitation.
Prime Minister Rabuka traveled to Port Moresby to attend the Forum for India-Pacific Islands Cooperation (FIPIC) Leaders' Summit that will be held on Monday 22 May 2023.
Fourteen Heads of governments of other Pacific Island countries are also arriving in Port Moresby to attend the Summit which will be co- hosted by Prime Minister of India Narendra Modi and PNG Prime Minister Hon. James Marape.