Monday 19 September 2022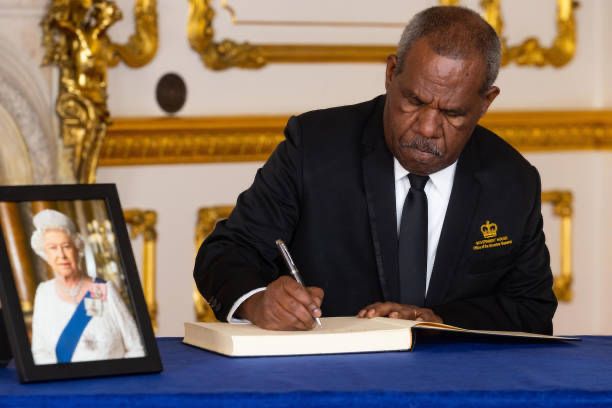 The Governor – General Grand Chief Sir Bob Dadae signing the Condolence Book at Lancaster House, London. (photo credit: Government House)
Governor-General, H.E. Grand Chief Sir Bob Bofeng Dadae, and Lady Emeline Dadae are attending the State Funeral Service of Her Majesty Queen Elizabeth II today
Prime Minister Hon. James Marape and Mrs. Rachael Marape joined the Governor General and Lady Dadae at the Westminster Abbey in London, United Kingdom this morning at 11am, British Summer Time (8:00 pm PNG time)
Reflecting on the occasion, Grand Chief Sir Bob noted that the enduring legacy of the Queen will live on in the hearts and minds of many the world over, and Papua New Guinea is no exception.
"Whilst today marks a sad chapter in the history of the world, when we finally lay to rest Her Majesty the Queen, we also find cause to celebrate and remember one of the world's iconic individual who has throughout her life, personified a life of service ahead of self and whose constant presence offered stability and calm in spite of the turmoil and division in the world.
"The Commonwealth of Nations, of which our country is a member, has benefited from the association of fellow member countries including that of Great Britain.
"His Majesty King Charles III now takes rein as head of the Commonwealth. With the official Proclamation of King Charles III at Parliament House recently, we as a nation have reinforced our commitment to remain part of the Commonwealth.
"We have benefited greatly from our association and close relations with other Commonwealth countries economically and through trade and bilateral assistance and through human development and shared values that promote human dignity and freedom.
"As we farewell our late Queen today, may we remain committed to our place in the Commonwealth of nations and promote the values that our Queen has lived by throughout her life and which has held our Commonwealth family of nations together throughout her reign. May the Queen Rest in Eternal Peace," Grand Chief Sir Bob said.
The Governor General and Lady Dadae will attend the final engagement of the Queen's Funeral Service – the Committal Service at Windsor Castle this afternoon, local time, before departing London for Sydney later tonight, local time.
The Governor General and Lady Dadae return to PNG at the end of the week.