Friday 22 September 2023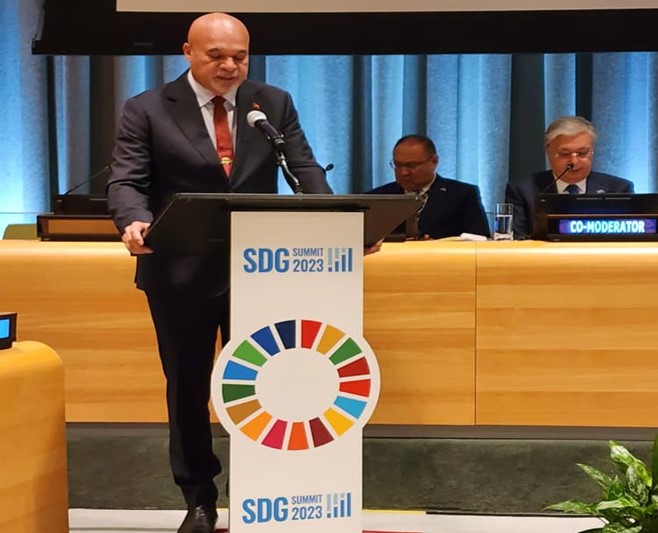 Deputy Prime Minister and Minister for Lands, Physical Planning and Immigration, Hon. John Rosso,  is currently representing Papua New Guinea at the 78th Session of the United Nations General Assembly (UNGA) High-Level General Debate in New York.
He serves as the Special Envoy of the Prime Minister for this important international event, taking place from September 18 to 23, 2023.
This year's UNGA General Debate is distinguished by its record number of high-level meetings, featuring eight in total. These meetings encompass topics such as Sustainable Development Goals, financing for development, climate ambition, pandemic preparedness, and more.
Deputy Prime Minister Rosso will deliver Papua New Guinea's Country Statement on Saturday 23 September, marking a significant moment in the proceedings.
Apart from the main General Assembly Debate, Deputy Prime Minister Rosso will engage in numerous high-level multilateral and bilateral discussions. These include dialogues with UN Secretary-General, participation in the Small Island Developing States Summit on climate change, meetings with key countries like the United States, Australia, Rwanda, and more.
Deputy Prime Minister Rosso emphasized the importance of Papua New Guinea's active participation in this global forum, highlighting the country's development progress, challenges, and the impact of global issues such as the COVID-19 pandemic and the climate crisis.
He also underscored the need to strengthen existing development partnerships and establish new ones to support the nation's development priorities and vision.
In a recent high-level meeting on Sustainable Development Goals, Deputy Prime Minister Rosso expressed concern about the slow progress in achieving these goals in Papua New Guinea due to various challenges, including the pandemic, conflicts, and the climate crisis. However, he reaffirmed the commitment of the Marape/Rosso Government to work toward SDG fulfillment through their Medium-Term Development Plan IV (2023 – 2027).
The Deputy Prime Minister highlighted several initiatives, including infrastructure development, special economic zones, housing projects, and digital government efforts, aimed at achieving the SDGs. He thanked development partners for their support and called for partnerships based on equality and alignment with Papua New Guinea's development plan.
He outlined three key requirements to assist developing nations like Papua New Guinea in achieving their development goals: a renewed commitment to the 2030 Agenda, a reform of the global economic and financial framework, and support for downstream processing of natural resources.
He further stressed the importance of collective action and meaningful steps in the coming years to address global challenges and achieve common goals. This visit marks Deputy Prime Minister Rosso's first-ever trip to the United States and the United Nations General Assembly meeting.
Accompanying Deputy Prime Minister Rosso are key ministers from Papua New Guinea, who will also make national statements in various high-level meetings addressing issues such as peace and security, climate change, and health.
The delegation receives support from the Papua New Guinea Permanent Mission to the United Nations in New York, the Embassy in Washington D.C., and officials from various government departments.
Deputy Prime Minister Rosso's participation in the UNGA highlights Papua New Guinea's commitment to international cooperation and its dedication to addressing pressing global issues.