Digital Infrastructure Critical, for Delivery of High-Quality Digital Services to Citizens
Thursday 23rd March, 2023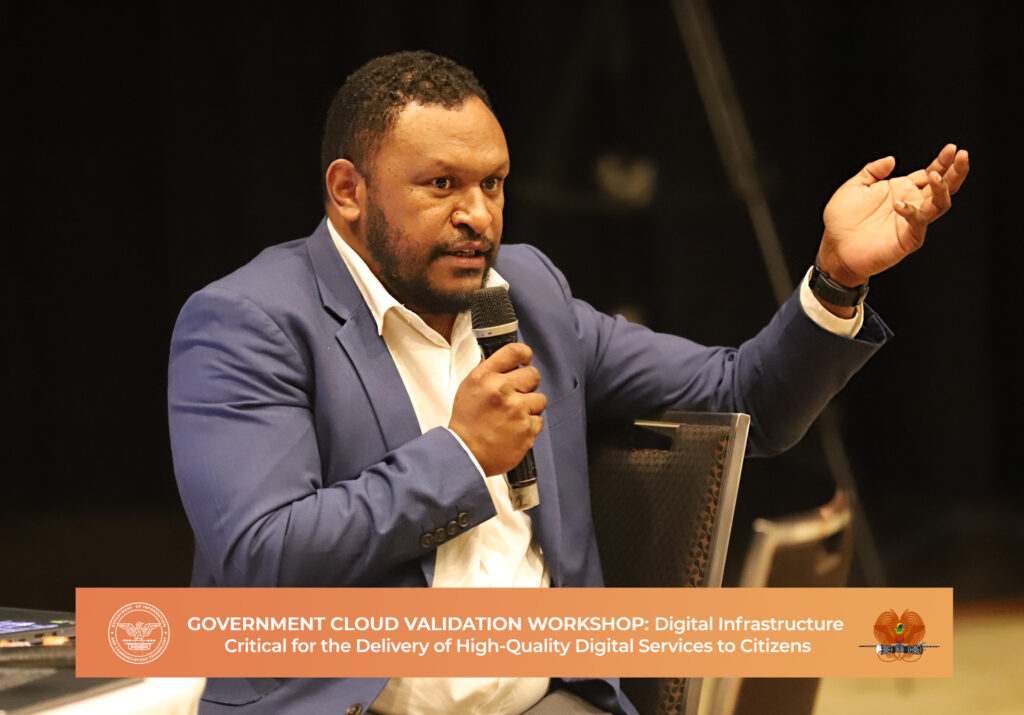 DICT Executive Manager for Digital Government and Shared Services Mr Robertson Asari during the Validation Workshop on Government Cloud Policy at Stanley Hotel, on Wednesday 22 March 2023.
The Department of Information and Communications Technology (DICT) of Papua New Guinea values the importance of delivering effective and high-quality digital services to enhance citizens' social and economic livelihoods.
Executive Manager for Digital Government and Shared Services, Mr Robertson Asari, gave an overview of the "Cloud First Policy" – the Government Cloud Policy and how the government can leverage the integration of emerging technology to focus more on services to the people.
Mr Asari stated the cloud platform itself comes with a lot of benefits but also has a few risks associated with it, hence, this Policy in draft form, will need feedback from all key stakeholders, both locally and internationally.
"The Government Cloud Policy aims to use the cloud platform as the primary digital infrastructure to drive digital transformation and innovation for the whole of government. It encourages public bodies to use cloud services as their primary option while providing clear guidance and best practices for adoption."
The policy is aligned with various government documents and derives its mandate from the Digital Government Act (DGA) 2022 and NEC Decision No. 39/2021.
Mr Asari emphasized that the policy was in draft form for over a year to receive feedback from all key stakeholders, both locally and internationally, and incorporate the most effective and tailored models out there.
The policy focuses on six objectives: Security, Consistency & Alignment, Modernization, Procurement, Innovation, and Optimal Commercial Outcome.
The Draft Government Policy ensures that the government is service-focused and strategically driven while ensuring security considerations are met.
The policy covers the utilization of relevant and appropriate digital technology platforms to increase revenue, deliver public services more effectively and efficiently, and digitally track development indicators in real-time.
The implementation of digital infrastructure, specifically the Government Cloud Policy, is critical for the delivery of high-quality digital services to citizens.
The DICT is committed to ensuring that the policy is effective and meets the needs of all stakeholders.