Thursday 11 May 2023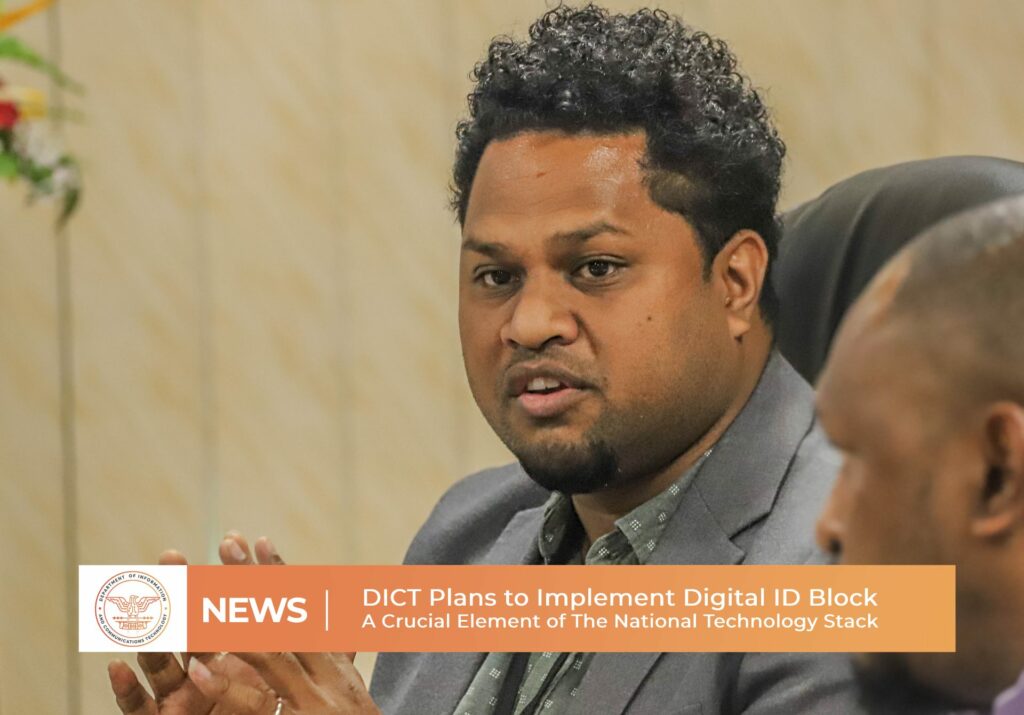 DICT Secretary Mr Steven Matainaho speaking during a meeting with stakeholders on Digital ID Block at the Department of ICT yesterday (Wednesday 10 May 2023).
The Papua New Guinea Department of Information and Communications Technology (DICT) has unveiled its plans to construct a centralized data center housing identity data for all citizens.
Secretary of DICT, Steven Matainaho, in his discussion with stakeholders and representatives from the public and private sectors, yesterday, said the initiative aims to establish a Digital ID Block as a fundamental component of the government's technology infrastructure.
The Digital ID Block is a specific module designed to manage digital identity services for citizens. Its primary objectives include centralized and secure management of digital identities, encompassing identity verification, authentication, authorization, and data management.
"The implementation of a Digital ID Block aims to streamline access to digital services, enhance data security, reduce fraud, and improve the overall user experience," stated Secretary Matainaho.
The custodians of the vast data sets, comprising information about the broader Papua New Guinean population, include fintech companies, telecommunications organizations, and the PNG National Identification Authority (NID).
These entities met with DICT officials yesterday to discuss the implementation of the Digital ID Block.
This crucial element in the government technology stack will ensure streamlined and secured identity verification and authentication processes for the country's inhabitants.
Secretary Matainaho emphasized the importance of establishing foundational blocks before rolling out a wide range of citizen-facing digital services.
"This approach aims to prevent duplication of investments and facilitate access to multiple digital services efficiently.
He further highlighted that the Digital ID Block promotes interoperability, allowing seamless integration with various government and private sector services.
Secretary Matainaho clarified that the National Identification database is ideally the primary data source for the Digital ID Block's operations. He also confirmed that DICT, empowered by provisions within the Digital Government Act 2022, is entrusted to facilitate ID Verification Services and a secure data exchange platform.
In a show of support, leading entities in PNG's financial and telecommunications sectors have expressed their backing for DICT's objectives.
The Bank of South Pacific (BSP), Digicel PNG, and Telikom have affirmed their commitment to collaborating with DICT in building digital identity services and harnessing the power of cloud technology to support the Digital ID Block.
Mr. Matainaho, stated, "We've invited all the entities that have data sets, and that will help with the Digital ID block." This inclusive approach ensures comprehensive participation and cooperation from relevant stakeholders.
Mr. Robertson Asari, DICT's Executive Manager for Digital Government and Shared Services, emphasized the importance of receiving valuable feedback from the private sector to enhance the Digital ID Block's security and effectiveness.
He also emphasized that while they draw inspiration from successful models such as the Estonian digital identity system, Papua New Guinea's approach will be tailored to its unique standards, people, and ecosystem.
To initiate further dialogue and gather input, DICT will be conducting consultation meetings with stakeholders from both the public and private sectors. Additional information will be shared during upcoming regional workshops organized by the department.
As DICT prepares to integrate the Digital ID Block into its national technology infrastructure, it aims to establish a secure, efficient, and inclusive digital identity system that will benefit its citizens and pave the way for a wide array of digital services.