Monday 01st May 2023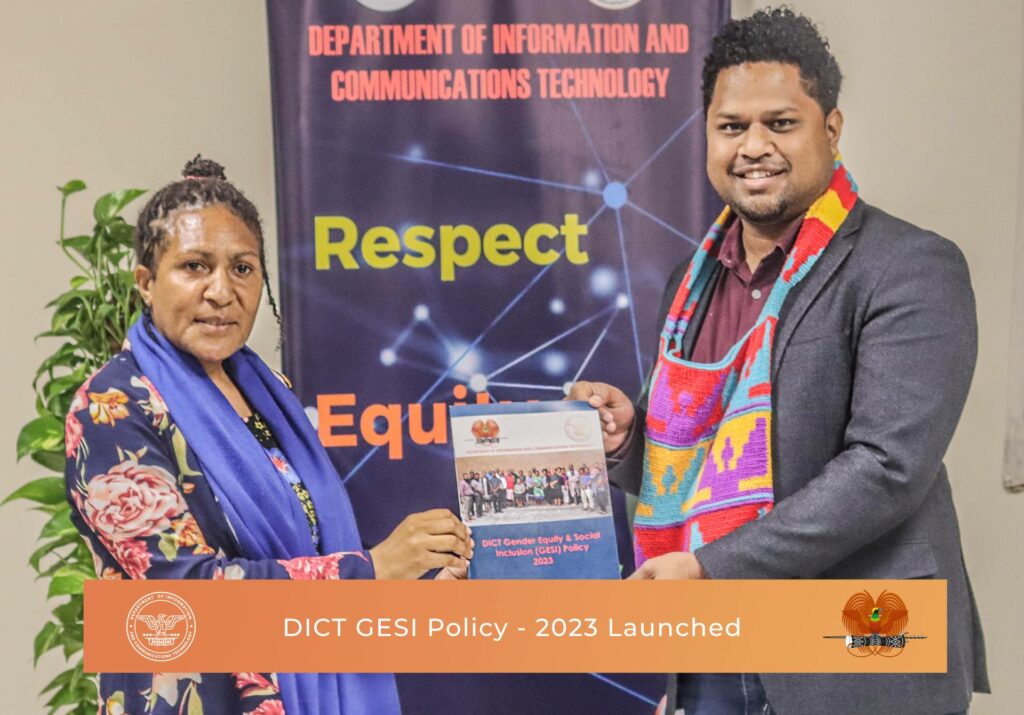 The Department of Information and Communication Technology achieved a milestone by launching its DICT GESI Policy-2023.
DICT Secretary Steven Matainaho said during the launching today that this policy is important for the organization which aims to create a working environment that is safe, equitable, respectful and diverse.
Mr Matainaho acknowledged the department's GESI desk and policy team for working tirelessly to develop this document.
"We now have a policy position cascading from our national policy and we can start to ensure this policy is practiced within every process we do and it becomes part of our culture.
"This policy is no different from the digital transformation policy in the sense that, you need a whole of government process where you need to streamline it into every activity or program that you do.
"Which means that within the recruitment process; are we implementing this policy, in the disciplinary process, are we facilitating this process, in anything that we do, we must implement this policy which represents Respect, Equity and Diversity," Mr Matainaho said.
The DICT GESI Policy-2023 came about as a result of major 'GESI Sensitization and Mainstreaming' workshops organized in collaboration with the Department of Personnel Management GESI division in 2022 where 42 staff out 68 from the department (DICT) were GESI sensitized.
These officers participation and contribution of ideas as a team through group activities, group presentation made findings and recommendations captured and translated into this DICT GESI Policy-2023.
The DICT GESI Policy-2023 is the subset of the main Public Service National GESI Policy which DPM'S GESI WoG branch is the custodian of.
According to DPM representative, Ms Amelia Raka acting manager GESI coordination and mainstream, who witnessed the launching said the Gender Equity & Social Inclusion (GESI) Policy is an important national and whole of Government agenda.
"And as the custodian of the GESI POLICY, DPM will basically be here to work along side DICT as we implement your internal GESI policy.
"On behalf of DPM, we acknowledged the great work you have put together in ensuring that the GESI policy for your department has come into fruition.
"DICT, you have come a long way in a very short space of time, we know because of the tireless effort of your management team and GESI officers are doing, so we congratulate you.
"And for those who have undergone our GESI training, you are directly and by default are GESI vocal points and you are the extension of your GESI unit that sits in your executive, you are the eyes and ears, not to report but basically ensure that we have an "Inclusive, Equitable and Accessible" work place for each and every one of us," Ms Raka said.
Australian High Commission First Secretary, Ms Anne O'Keefe who also attended the occasion said Australian Department of Foreign Affairs & Trade continues to work closely with DICT in providing technical support with infrastructure development in projects in the ICT space as well as with many other initiatives.
"DFAT is an advocate of good governance in Papua New Guinea and supports this initiative by DICT.
Ms O'Keefe is also passionate about gender equality and social inclusion and was honored to attend the launching.
"I would like to congratulate DICT on the launch of this important body of work, the Gender "Equality, Social Inclusion Policy or GESI, I'm sure a lot of hard work has been put into this
and I would like to acknowledge all the good work of the staff and various teams who have put this policy together."