Monday 16 January 2023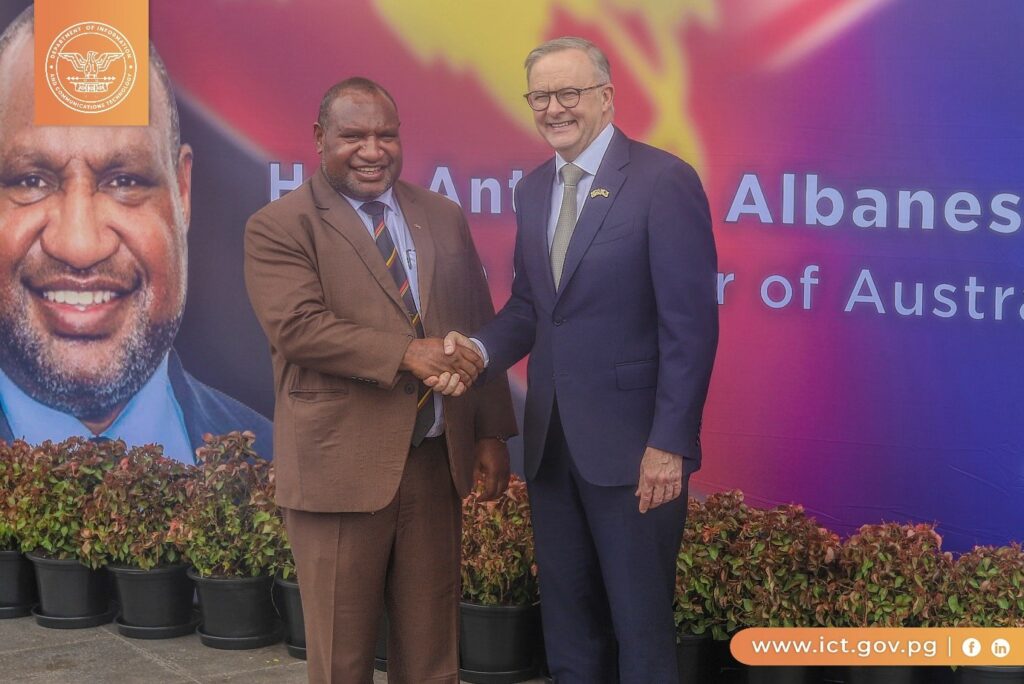 Prime Minister Hon. James Marape (left) and Australia Prime Minister Hon. Anthony Albanese were all smiles, as the 4th PNG-Australia Leaders Dialogue concludes at APEC Haus, Port Moresby, on Thursday 12 January 2023.
PNG Prime Minister Hon. James Marape and Australia Prime Minister Hon. Anthony Albanese in the Leaders Dialogue last week, have recognized the importance of effective law and order and a strong justice and police system in underpinning Papua New Guinea's security and economic development and undertook to intensify cooperation in these areas, including addressing PNG's priority needs.
They noted the value of the current policing partnership, and the significance of working together in supporting policing operations in the Pacific region.
Both Prime Ministers undertook to continue working together on shared opportunities and challenges facing the Pacific family.
They further reaffirmed the critical role of the Pacific Islands Forum in supporting a peaceful, prosperous and resilient Pacific, and reflected on the importance of the landmark 2050 Strategy for the Blue Pacific Continent in guiding the regional agenda. They committed to strengthen the unity of the Pacific Islands Forum and to support the Review of the Regional Architecture.
The Leaders also discussed Australia's financial assistance to support Papua New Guinea's priorities around budget repair and fiscal sustainability following the pandemic. Prime Minister Marape welcomed Australia's budget support loan to help Papua New Guinea return its budget to a sustainable path.
Leaders noted the loan was provided in support of Papua New Guinea undertaking an IMF program in 2023.
Both Prime Ministers welcomed the significant achievements under Australia and Papua New Guinea's infrastructure investments, including the recent redevelopment of ANGAU Memorial Provincial Hospital in Lae.
The leaders also welcomed Australian Infrastructure Financing Facility for the Pacific (AIFFP) support to major capital projects in ports, roads and electrification across Papua New Guinea that would improve the competitiveness of Papua New Guinea's goods and services and increase the ability of Papua New Guinean businesses to export.
They also underlined their shared objective of boosting business ties, trade and investment, and welcomed the increase in Australian private sector investment in Papua New Guinea, which had reached close to $25 billion. They welcomed a joint feasibility study to examine potential new trade arrangements, which would report to the two governments in the near future.
Form their discussions, they discussed Papua New Guinea's significant agricultural potential. They agreed the Australian and Papua New Guinean ministers responsible for agriculture would discuss, including through the 2023 Ministerial Forum, support for PNG's plans to expand its agricultural production and consider ways to build further on Australia's significant investments across infrastructure, development of key commodities, and biosecurity.